8 Most Common Gutter Cleaning Myths
Many people delay gutter cleaning until there's a problem. The fact is that the gutter should be cleaned at least twice a year, once in early spring to clear out any leftover debris that has been accumulated during the winter and more importantly in late fall. Taking proper care of gutter can protect your home from major and expensive water-related damage like foundation damage, structural problems, landscape erosion, flooding and fascia rot.
Many Melbourne home owners are not particularly well-informed about the gutter cleaning, which can lead them to believe that a few of the misconceptions about gutters are true. To save you from this, let's take a look at some of the gutter cleaning myths that are occasionally heard:
Myth – Gutters Don't Need Maintenance
Gutters can be easy to overlook but are one of the most critical parts of the house. It helps protect your home's foundation and helps it last longer by keeping the water away from it. Just like roofs or any other part of the property, gutters too need maintenance in order to keep them working the way they are meant to be.
Neglecting gutter maintenance can let leaves and other debris settle causing clogging and pests to happen. So, it's vital to have your gutters cleaned regularly. Professionals suggest that gutter cleaning in Melbourne should be done at least twice a year.
Myth – My gardener Can Clean Gutters
While your gardener or a local handyman might be physically capable of gutter cleaning, but it doesn't mean that they can do a good job. It's neither their specialty nor they have the right tools, experience, and safety equipment to do a thorough and safe job.
So, it is always advisable to get the gutters cleaned from professional gutter cleaners who have the right tools and trained staff for this job.
Myth – Gutter Guards Eliminates the Gutter Cleaning Need
This is one of the biggest misconceptions. The whole point of gutter guards is to prevent debris from getting into the gutters. While that's true, it's possible for other types of debris like sticks, pine needles, seeds to get in. Gutter guards also attract pests and vermin as they provide the food-rich environment for them to breed. This may lead to even bigger headaches, as one will have to remove the gutter guards first and then clean the gutter to prevent any extensive home damage.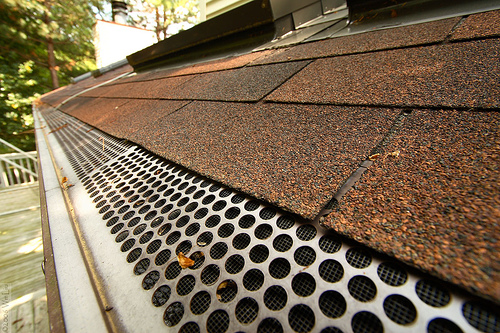 Myth – Gutter Cleaning is Only About Removing Leaves and Debris
If you're planning to get your gutters cleaned, remember, removing debris and gunk is just not enough. Professional gutter cleaning in Melbourne involves inspection of your system. From seams, leaks, flushing downspouts to prevent clogging, professional gutter cleaners ensure that the entire gutter system is draining properly. Also, ensure that the downspouts are diverted far away from the exteriors to allow water to properly divert away from home.
Myth – Gutter Cleaning is Easy; I can do it Myself
Beware! Cleaning the gutter, yourself is never a good idea. And, did you know? Even the changing climate can affect your gutters. Injuries from ladder falls can be life-altering, so it's just not worth the risk. You'll end up spending your time, in pulling out muck and grime by your hands from every crevasse and downpipe. However, the job done by you without any equipment will never be as effective as specialized gutter cleaning machines in Melbourne.
Myth – Pressure Cleaning is as Good as Vacuum Technology
Many gutter cleaners in Melbourne still use pressure cleaners and leaf blowers for gutter cleaning. It is extremely damaging. It not only causes an enormous mess but also pushes the majority of debris straight into the downpipes resulting in more blockages. It also strips the protective granules from asphalt shingles, leaving the roof with less protection from harsh environmental elements like sun, rain, and wind.
On the contrary, vacuum gutter cleaning can capture 99.9% of the mess and get down deep into the downpipes for a thorough cleaning.
Myth – Having Right Equipment is all you Need for Gutter Cleaning
Having the best equipment is vital. But proper training and experience in using that equipment are of the same importance too. This is what separates a professional gutter cleaner in Melbourne from the rest. They have the skills and ability to use the equipment professionally and precisely remove all the mold, leaves, dirt and grime from the entire gutter system.
Myth – Gutter Damages Will be Covered By Insurance
You might not be aware of, but you might be inadvertently voiding your home insurance with blocked gutters and downpipes. In the event, if something goes wrong, you may not be protected if your gutters have not been maintained. Having your gutters cleaned by professional gutter cleaners can protect you from nasty and expensive surprises.
Summary
Don't let these myths confuse you and damage your assets. Dealing with skilled professionals, always makes the process smoother and results better. Thus, hire the renowned gutter cleaners in Melbourne to enjoy the peace of mind that your gutters and your home are protected for life!